23 février 2006
4
23
/

02
/

février
/

2006
20:20
Hippie groove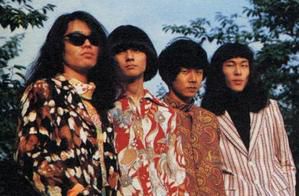 Jeanpop2 et M. poire, singulièrement en péril, s'accomodèrent facilement de cette incursion dans le mauvais goût hippie, alors distillé au compte-goute par les formidables étalons Psycho-bataves présents sur la playlist de cette émission. Le groove hippie, rampant, acide ou emberlificoté, fut donc largement disserté pendant cette heure et demie de sensualité californienne.
The Gruve "Take hi five"
Vikings "I'm trying"
Knights Of Darkness "I can't look down"
Nervous Breakdowns "I dig your mind"
Morning Disaster "Black leather books"
The Byrds "What's happening?"
The Solid State "Wait and see"
Poco "Make me a smile"
The Five Americans "Sound of love"
The Reason Why "Dark side"
Regina Sherard "Helpless baby"
Steely Dan "Dirty work"
Loyce cotton "Try it, you'll like it"
Freddie Allen "We've only just begun"
The Mama Cats "Miss you"
Lee Hazlewood "A day like today"
Jo Ann Garrett "We can learn together"
Bobby Powell "Childhood days"
James Brown "The whole world needs liberation"
Shades Of Blue "The time of my life"
Hoi Polloi "Better things"
Les Baroques "I was wrong"
Jackie De Shannon "Come and stay with me"
The Spiders "Don't blow your mind"
Vous pouvez écouter l'émission en direct tous les mercredis de 20h à 21h30 sur le site de radio campus Orléans (voir les liens). Vous avez grand intérêt à le faire. vous pouvez aussi l'écouter en différé une semaine après sa diffusion.