29 novembre 2004
1
29
/

11
/

novembre
/

2004
23:00
CHANSONS HANTEES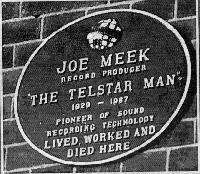 Il s'agissait ce jour-là de tenter une définition de la chanson hantée (son imaginaire, ses thèmes de prédilection, sa texture sonore, ses préfèrences rythmiques) et d'en dresser un panorama mondial: ainsi ont été diffusés des titres américains, anglais, écossais, boliviens et turcs. Etaient présents à cette émission MM. Poire et Becquerel, qui n'en sont pas venus aux mains.
Kim Fowley "Vampire confidential"
The Syndicats "On the horizon"
The Cryin' Shames "Please stay"
Tom and the Craftsmen "The work song"
Dr John "Lonely boy"
The Dhag dhag's "Tipo sicodelico"
Yabancilar "Agit"
Buffalo Springfield "The hour of not quite rain"
The Music Machine "The day today"
Chris Lucey "Girl from Vernon mountain"
Kenny and the Kasuals "As I knew"
The Specters "Depression"
Minnie Ripperton "Rainy day in centreville"
Lee Dorsey "Riverboat"
Gary "Spider" Webb "The cave (part one)"
The Werps "Shades of blue"
The Poets "Some things I can't forget"
Scrugg "I wish I was five"
Bergen White "Now"
Plush "Found a little baby"
Vous pouvez écouter l'émission en direct tous les mercredis de 20h à 21h30 sur le site de radio campus Orléans (voir les liens). Vous avez grand intérêt à le faire.