6 avril 2006
4
06
/

04
/

avril
/

2006
19:17
Les Vrais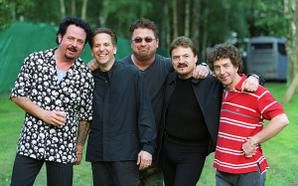 Toto, les vrais the tom york
"Eh oui mon pote, avant Maiden, y avait les Jay Jays." C'est sur cette phrase définitive de DJ Connard que la vocation de cette émission se base. Rétablir les vrais génies, négligés par le public avide de fausses légendes. Où on apprendra que the rem a tout volé à un unique titre somme de Dalton, James & Sutton, qui sont des bons potes.
The Chants R&B "Neighbour neighbour"
The Ugly Ducklings "Do what you want"
The Jay Jays "Got love if you want it"
The Mystic Tide "Frustration"
The Hobbit "Author's message"
The Music Machine "Masculine intuition"
Them Two "Am I a good man?"
The Buzz "You're holding me down"
The Swamp Rats "Hey freak"
Bob Seger "Heavy Music"
Joe Tex "I wanna be free"
The Untouchables "Find a new love"
The Drifters "You got to pay your dues"
The Monks "Oh how to do now"
The Moguls "Try me"
Morgen David & The Grapes Of Wrath "Don't want ya no more"
The Aztecs "World of woe"
Pat Farrell & The Believers "Bad woman"
The Ballon Farm "A question of temperature"
The Burlington Squires "World"
Dalton, James and Sutton "One time around"
Sincerely Yours "Little baby"
Betty Wright "Girls can't do what the guys do"
The Strange Fate "Love is like"
The Fly By Nites "Found love"
Chuck Brooks "I've got to get myself together"
Vous pouvez écouter l'émission en direct tous les mercredis de 20h à 21h30 sur le site de radio campus Orléans (voir les liens). Vous avez grand intérêt à le faire. vous pouvez aussi l'écouter en différé une semaine après sa diffusion.