8 avril 2005
5
08
/

04
/

avril
/

2005
22:00
Latin Flavour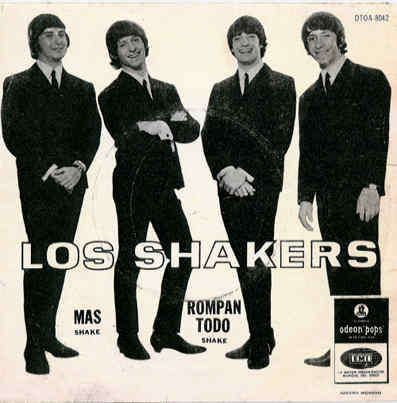 Los Shakers, quatre Ringo Starr Uruguayens
Elegance et transpiration étaient à l'honneur ce soir pour cette émission consacrée aux touches sud-américaines dans le rock. Jeanpop2 et M. Poire eurent bien sûr l'intelligence et le bon goût de ne pas réduire le sujet à l'unique Amérique du sud et d'étendre leur vision au monde entier, incluant le Japon et le Danemark.
Oraison funèbre de Billy Wolf
Guitar Wolf "Fujiyama attack"
The Rangers "Let's go rangers"
The Defectors "Go go slow"
The Steve Karmen Big Band featuring Jimmy Radcliffe "Breakaway pt 1"
Curtis Mayfield "We got to have peace"
The Rockmasters "Raining teardrops"
The Worlocks "I love you"
The Big Beats "Beware"
The Small Faces "Eddie's dreaming"
Ike White "Love and affection"
The Sollicitors "Music for the brothers"
Thee Midniters "Chicano power"
Los 007 "No te puedo encontrar"
The Dhag Dhag's "Bohemio"
Thee Enchantments "I'm in love with your daughter"
Los Chijuas "Estan cambiando los colores de la vida"
Los Shakers "What a love"
The Exotics "I don't want nobody (to leave me on)"
David Ruffin "My whole world ended"
Triste Janero "In the garden"
The Beach Boys "It's about time"
Eldridge Holmes "Until the end"
Steely Dan "Green earrings"
Los Ovnis "Ya se"
Vous pouvez écouter l'émission en direct tous les mercredis de 20h à 21h30 sur le site de radio campus Orléans (voir les liens). Vous avez grand intérêt à le faire.