19 mai 2006
5
19
/

05
/

mai
/

2006
17:30
Pierre Mückensturm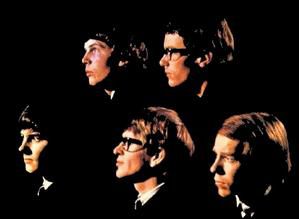 Saurez-vous repérer les deux Pierre Mückensturm sur ce cliché des Zombies?
Pour parler du Pierre Mückensturm, grand sec à lunettes indispensable à l'armée Psycho-Batave, Jeanpop2 et le nouveau M. Poire reçurent la visite de La Carpa, catcheur Mexicain en villégiature et fin connaisseur de la sève apollinienne distillée inlassablement par Sa Majesté Jeanpop2. Ainsi nos théories se trouvèrent-elles confirmées par ce vestige d'un monde mourant.
King Rock & The Knights "Scandal"
The E-Types "She moves me"
The Castaways "A man's gotta be a man"
The Black Diamonds "Not this time"
The Cobras "Try"
The Jay-Jays "Come back if you dare"
The Styx "My girl"
Rosnah & The Siglap Five "Gembira ria"
Wild Bill Kennedy & The Twiliters "Move it"
Mike & The Ravens "I've taken all I can"
The Deadbeats "Why did you"
Bobby Womack "What is this"
David Ruffin "I don't know why I love you"
Guy Kraines Trio "Come see the way"
The Chosen Lot "If you want to"
The Tikis "Show you love"
Tommy Tucker & The Esquires "Don't tell me lies"
The Blue Rondos "What can I do"
The Mystic Five "Are you for real, girl?"
Gerald Sims "Cool Breeze"
The Marvellos "Down in the city"
The Swinging Medallions "Double shot of my baby's love"
The Zombies "I must move"
The Blades Of Grass "Or is it the rain"
The Malibus "Cry"
The Woodpeckers "Inside looking out"
Vous pouvez écouter l'émission en direct tous les mercredis de 20h à 21h30 sur le site de radio campus Orléans (voir les liens). Vous avez grand intérêt à le faire. vous pouvez aussi l'écouter en différé une semaine après sa diffusion.