1 avril 2007
7
01
/

04
/

avril
/

2007
11:00
Y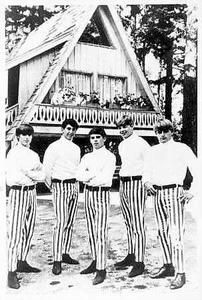 C'est encore une fois privés de Mermouch que nos infatigables héros menèrent à son terme cette émission goûtue, bien que trop souvent interrompue par les jérémiades de Poire, auquel il fut donné une salutaire leçon de modestie.
Phrase de la semaine : "Pour un enfant, la motricité c'est la vie" (Jeanpop2)
The Byrds "Lady friend"
The Changing Tymes "Bye tyme"
The Wyld "Lost one"
The Changing Tymes "Try a whole lot harder"
The Playgues "Gotta be goin"
The Shyres "Where is love"
The Wylde Knights "Beaver patrol"
Vy-Countz "Goodbye"
The Playgues "Baby no more"
Undecyded "Make her cry"
Johnny & The Night Ryders "I had a girl"
The Shaynes "From my window"
Morning Tymes "On top"
Bryan Ferry "You go to my head"
Satan's Chyldren "Don't go"
Dudley & The Doo Rytes "U.F.O."
Kenny & The Kasuals "Journey to tyme"
The Bryds "Your lies"
The Barking Spyders "I want your love"
Luvyn Kynd "Missy D.M."
The Fyrebirds "I'm so lonely"
Uder Mermouch a attribué au Minnesota un indice de 3.6 sur l'échelle Psycho-Batave